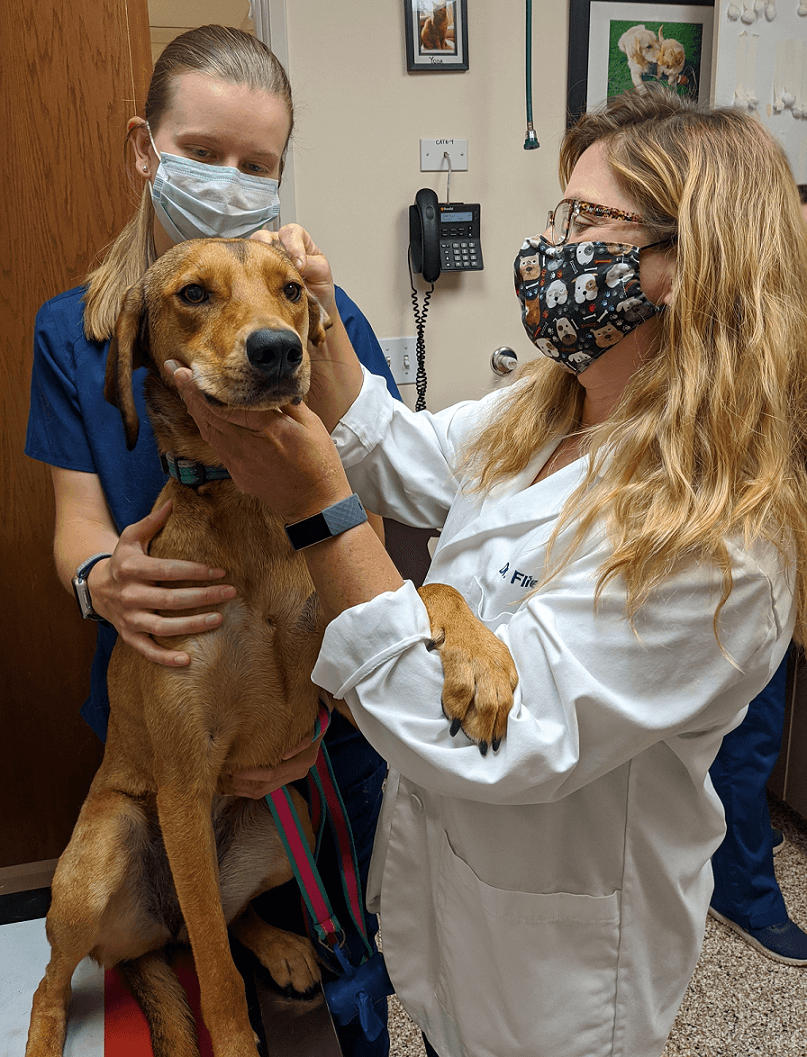 UPDATES TO HOSPITAL PROTOCOLS DUE TO COVID-19
---
Updated April 2022
Please be aware that we are no longer requiring masks to be worn inside of the building and there is no limitation on the number of people in a room.
Saturday hours are currently 8am - 12pm.
Curbside is still available to clients who prefer it.
Food and medication pick-up are still preferred as curbside in spots 14 and 15.
We are accepting cash again but no checks
---
Updated February 17, 2021:
If your pet is scheduled for an examination with the doctor, we will allow ONE PERSON wearing a face mask to accompany your pet into the hospital. Rooms are thoroughly cleaned and sanitized between appointments. Curbside service will still be available to clients who prefer it.
CURBSIDE SERVICE WILL CONTINUE for nail trims, drop offs, and other tech appointments, as well as grooming. Our lobby is still closed. This means you will wait in your vehicle while your pet receives treatment, then we will bring your pet back out to you. The medical staff may need to reach you during the curbside appointment. Please be ready to answer your phone, even if the number does not look familiar, as we may be trying to reach you about your pet's care. Thank you for your understanding.
When you pull into the parking lot, PARK IN FRONT OF A CONE. We have fifteen spaces that are numbed with cones.
After you park, CALL or TEXT 630-844-0100 and we will get you checked in. If you want to come into the hospital for your pet's exam, please be ready with your face mask on and your pet leashed or caged. When your room is ready, you will be instructed to bring your pet to the front door where a nurse will greet you and bring you inside for your pet's exam.
IF YOU ARE PICKING UP FOOD OR MEDICATION, please park on the FAR WEST side of the building that faces east. There will be signs indicating parking for medication pickup - spots 14 & 15. Call us and someone will bring the food or medication out to you and take payment at your car.
We are experiencing a HIGHER VOLUME of PHONE CALLS than usual, and as such, WAIT TIMES ON THE PHONE and in the PARKING LOT may be LONGER THAN USUAL. To help us with this, we are requesting that you TEXT to communicate with us whenever possible. Our main number, (630) 844-0100 is able to send and receive texts at this time. Please add us to your phone's contact list if you have not already done so.
We appreciate your patience. If you are planning to PICK UP FOOD or MEDICATION, we can take your PAYMENT OVER THE PHONE prior to your arrival TO REDUCE YOUR WAIT time.
We are accepting CREDIT CARDS, CARE CREDIT, and SCRATCHPAY only (NO CASH). We appreciate your compliance and understanding.
Our Current Hours:
MONDAY: 8:00AM to 6:00PM
TUESDAY: 8:00AM to 8:00PM
WEDNESDAY: 8:00AM to 8:00PM
THURSDAY: 8:00AM to 8:00PM
FRIDAY: 8:00AM to 6:00PM
SATURDAY: 8:00AM to 2:00PM
SUNDAY: CLOSED
We appreciate your patience and thank you for your continued support during this time. We know how stressful it is on a normal day to bring your pet to the vet, and these COVID protocols sometimes seem to make it more frustrating than we'd like. We promise we are doing everything we can to keep our staff safe and keep our hospital open for our patients and clients. From our family to yours, please be safe and take all precautions to stay healthy.
-The ORAH Team