Payment Policy:
We require payment in full at the time of service and/or release of your pet. For some procedures, we may require a down payment.
Planning for your Visit:
Prior to any procedure or visit, we can provide you with an estimated cost so you can better prepare for your pet's care. While we try to provide as accurate a treatment plan as possible for future procedures, please understand that an estimate is NOT a guarantee of the fees that may incur. Sometimes, even though we give our best effort to provide an accurate treatment plan, unforeseen circumstances may change the final fees.
Payment Options:
We accept cash as well as Visa, MasterCard, Discover, American Express, Debit cards, CareCredit, and Scratchpay.
---
Payment Plans with Scratchpay:
We are proudly partnered with Scratchpay to offer payment plans for our clients!
Scratchpay provides simple and affordable payment plans for pet parents. Checking to see which plan is best for you does not affect your credit, takes just a couple of minutes, and can be done from your mobile phone, tablet, or computer.
There are currently three plan types (3 months, 12 months, and 24 months), and Scratchpay can finance from $200 up to $10,000.
Scratchpay now has a new plan type called Take 5. This plan lets you break up your bill into 5 easy payments. Your first payment will be today, and the other 4 payments will be due every two weeks after that. No interest, no hard credit check.
Approval rates vary from client to client, and not all clients will be approved for all plan types.
While we hope your pet doesn't need critical or urgent care, we trust that Scratchpay payment plans will bring a sense of relief in times of difficulty.
To learn more about Scratchpay or to see which plan(s) you qualify for, click here: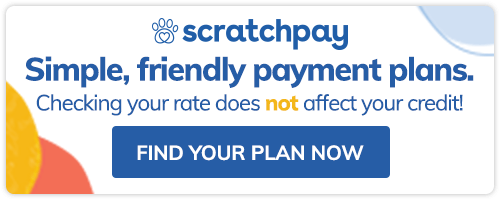 ---
6 Months Deferred Interest with CareCredit:

We proudly accept CareCredit cards as a payment option here at Orchard Road Animal Hospital. Any invoice that is $200 or more is eligible for six months of deferred interest with a CareCredit card.

CareCredit is a credit card that is accepted at many veterinary hospitals, dentists, and orthodontists. The application is simple, and if approved, you receive a card number that you can use right away for services.

To apply for a CareCredit card, click here: