Why Are Dental Cleanings Necessary For Pets?
Did you know that pets with regular dental care live an average of 4 years longer than those without?
Benefits to regular dental cleanings include a decrease of bad breath, prevention of heart, kidney, and liver disease, and decreased gum and tooth infections.
Dogs and cats need regular oral care just as people do. While they don't often suffer from tooth decay, they are susceptible to gum disease and broken teeth. Our dental help keep your pet's teeth healthy, strong, and shining.
Regular dental cleanings can also correct problems such as tartar build-up and periodontal disease, which affects the gums, bones and connective tissue around the teeth. If not addressed early and properly, periodontal disease can lead to tooth loss or even organ damage from the spread of bacteria.
Dental care for your pet is available in a variety of forms. You can brush your pet's teeth at home. There are certain foods and toys that can aid in dental care. But the best form of dental care is a yearly comprehensive dental from your pet's veterinarian.
---
What Is Included In A Dental Cleaning?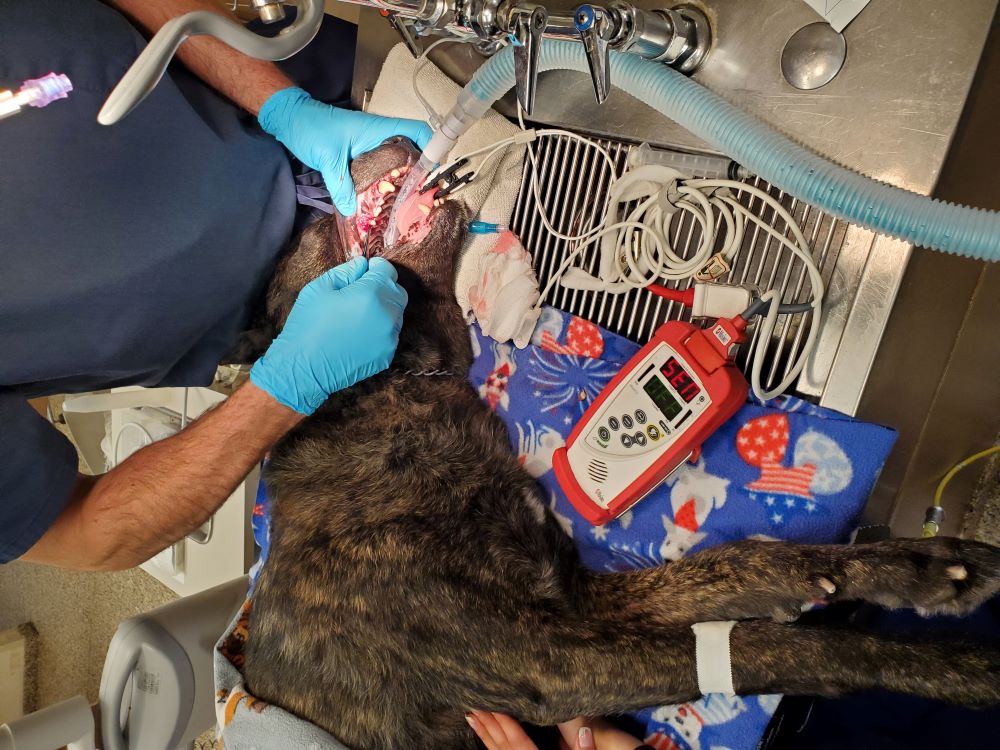 Our practice uses anesthesia for dental procedures. Because of this, the doctor will first perform a full physical exam and run blood tests to check metabolic functions and ensure your pet will be able to handle the anesthesia. Your pet is put under general anesthesia with constant monitoring by a nurse, keeping an eye on oxygen saturation and carbon dioxide levels in their blood along with their blood pressure, heart rate and temperature. Inside the mouth, we utilize local anesthetic injections as well as other injectable medications that last up to 24 hours to reduce pain and inflammation.
Once your pet is under anesthesia, a skilled technician performs dental scaling, our most basic dental procedure. During the scaling process, we use sonic and ultrasonic power scalers as well as handheld instruments to remove this tartar from the surface of the teeth both above and below the gum line. We also use a pocket probe to check gum recession and neck lesions on teeth.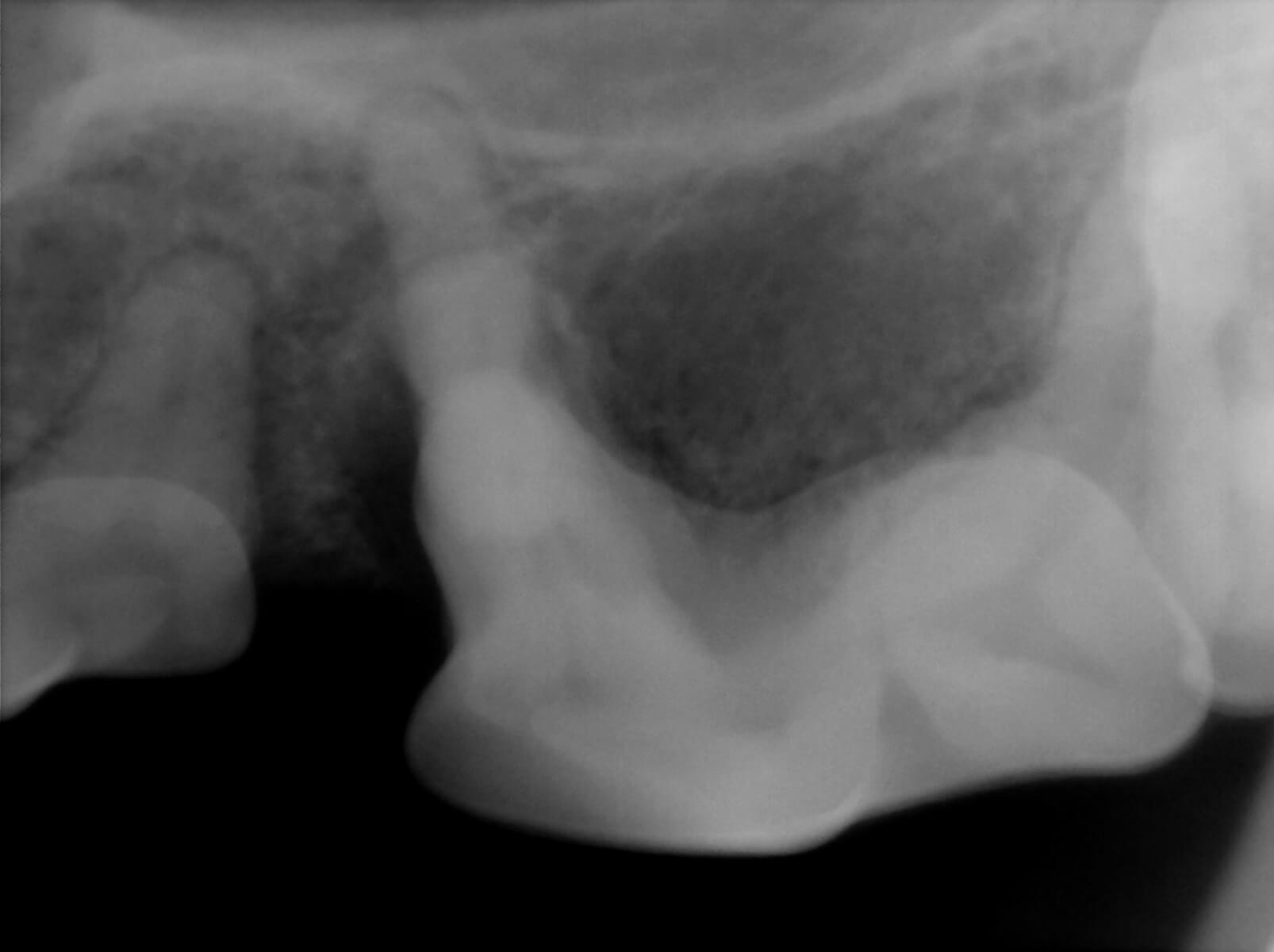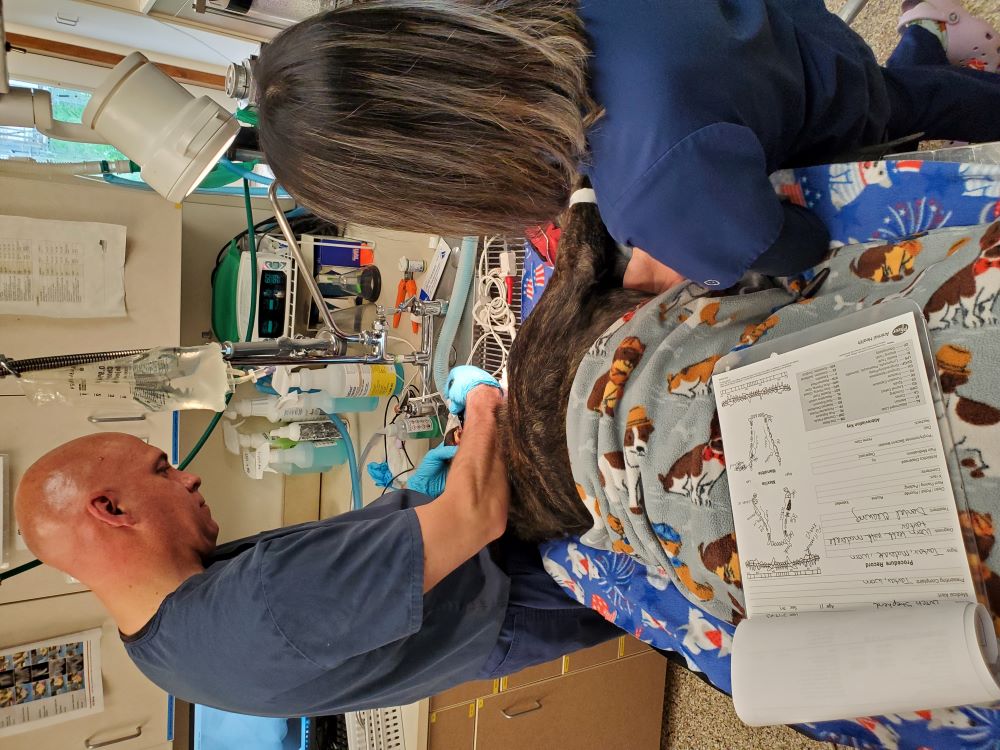 We also use X-ray Imaging to check for damage below the gum line. The doctor then reviews the radiographs to see if there are any teeth that may need to be extracted. We want your pet to retain as many teeth as possible. However, sometimes an extraction is the only option to relieve pain or ensure that periodontal disease does not advance. If not extracted, many times a diseased tooth can compromise the surrounding tissue and neighboring teeth. If caught early, there are more treatment options available for periodontal disease.
If your pet's doctor does determine that tooth extractions are necessary, the doctor will perform dental surgery, removing the damaged teeth and suturing the gums closed.
Finally, we apply a Fluoride polish to add a protective coat to the teeth.
---
Before: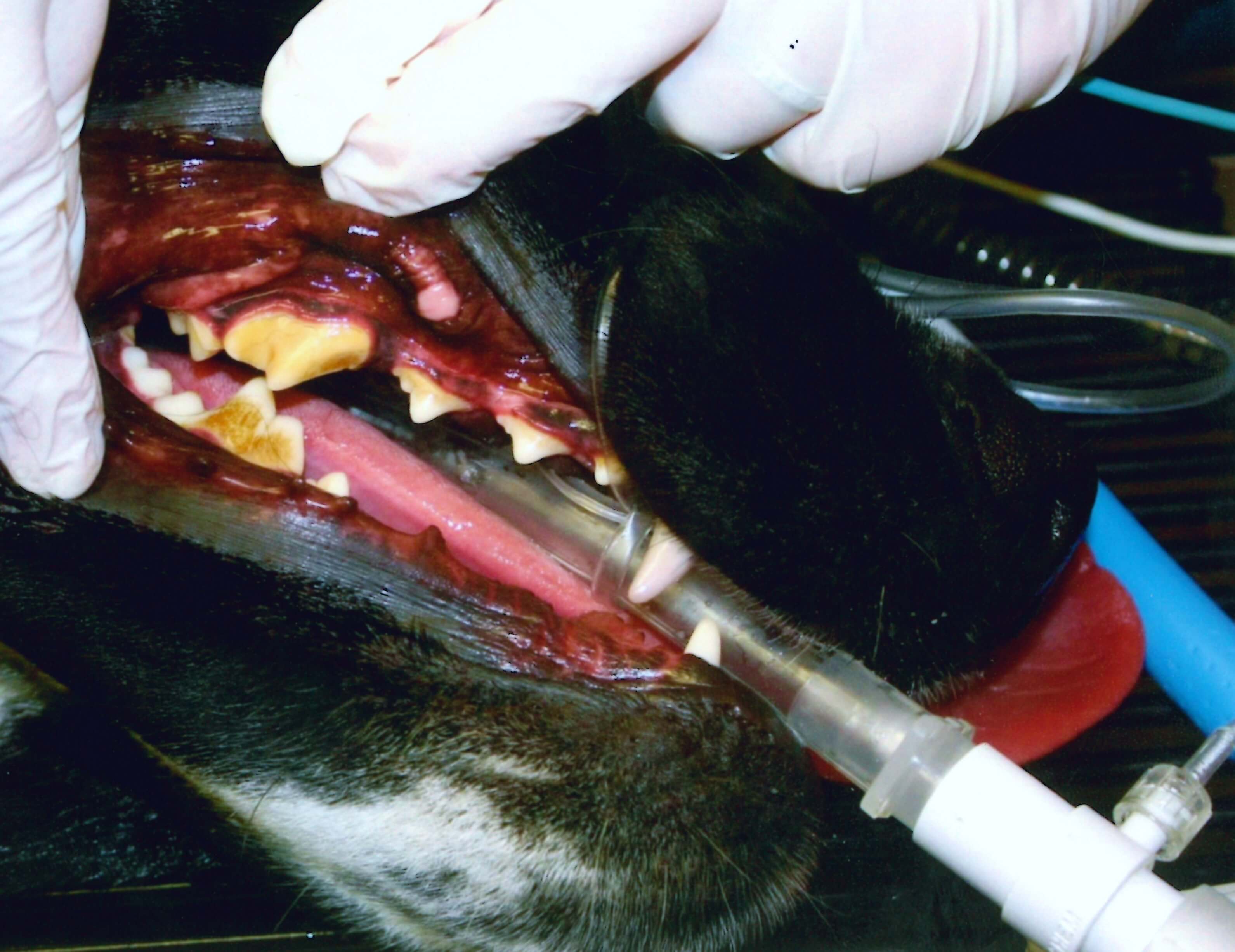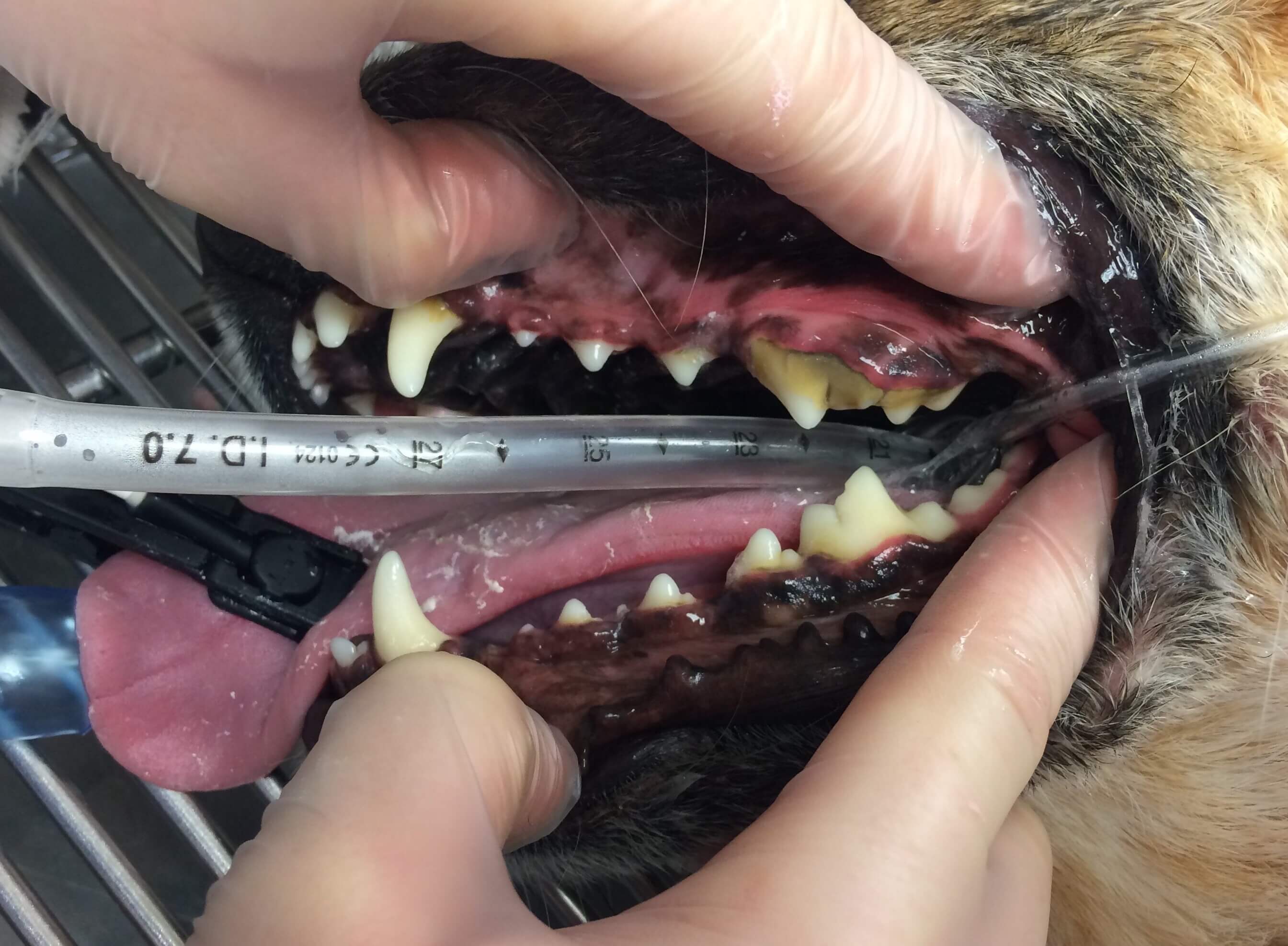 After: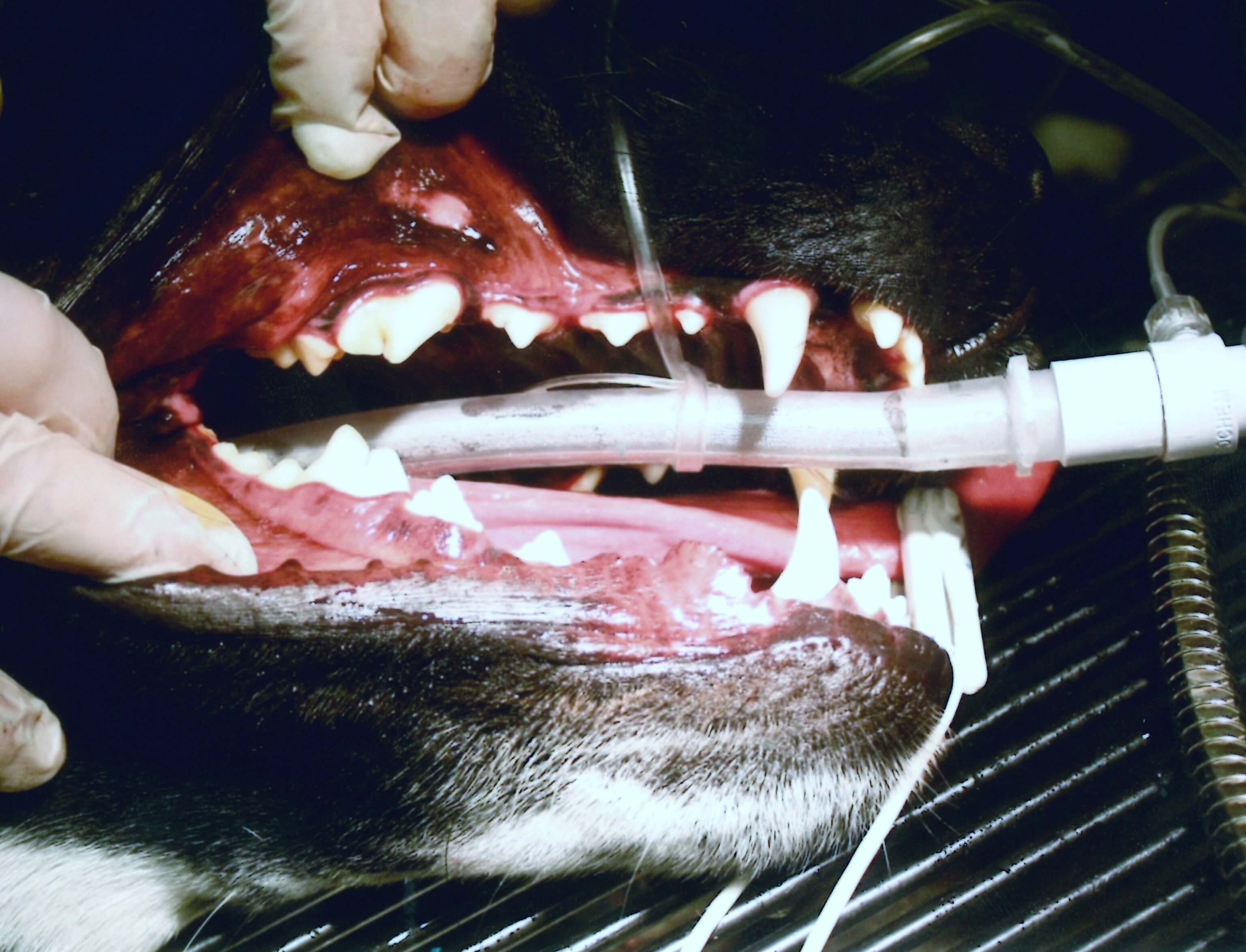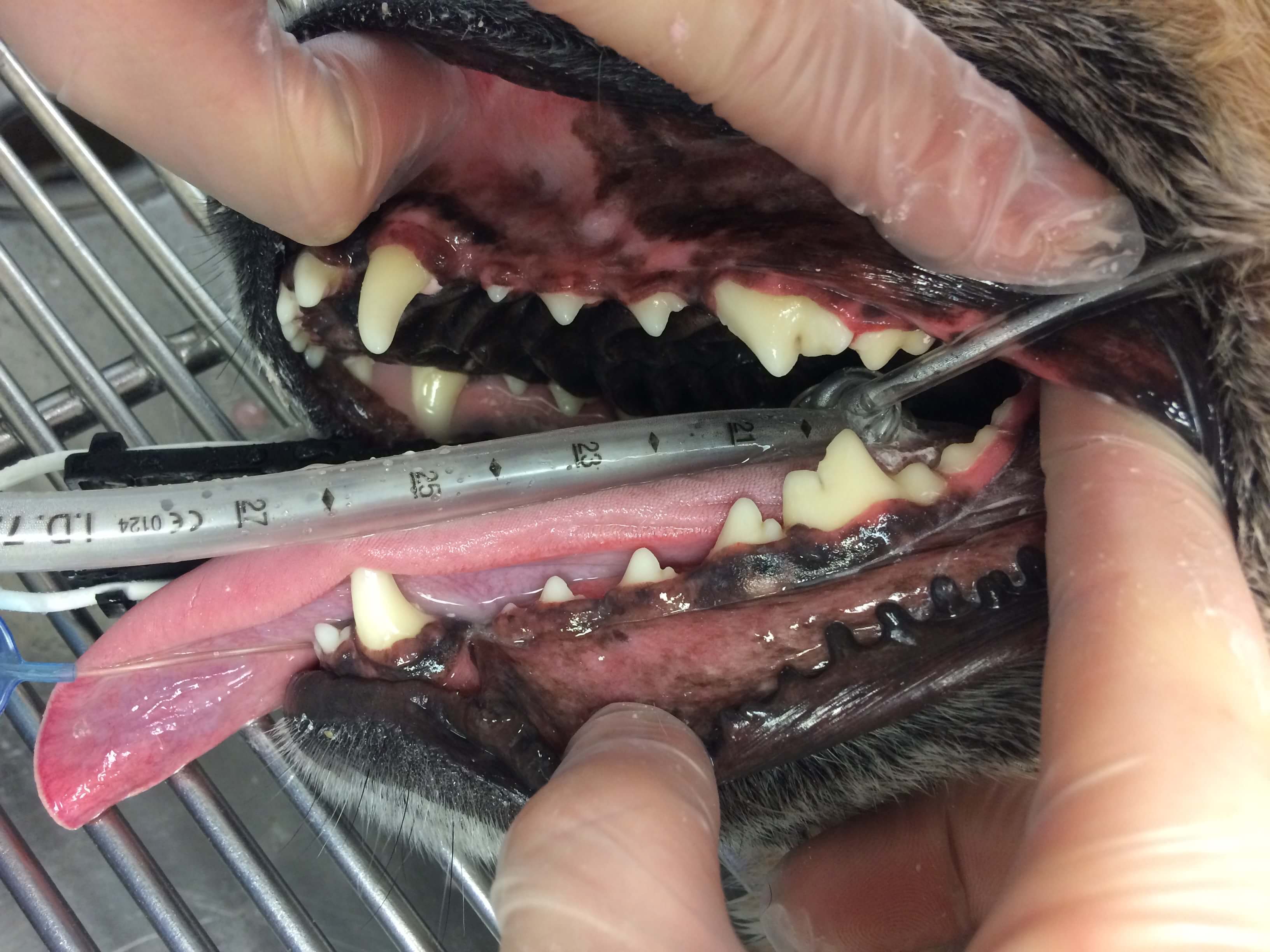 ---
Starting Young
Proper oral care begins when your pet is a puppy or kitten. It's also a combined effort between you and your pet's doctor.
You'll want your young pet to get used to, and better yet, enjoy regular tooth brushing as soon as you bring him home. This way, she will be accustomed to having her mouth and teeth handled without wanting to bite or snap.
When your pet first shows permanent teeth, ensure the baby teeth are falling out as the new ones grow in. Otherwise, the new teeth can become crooked.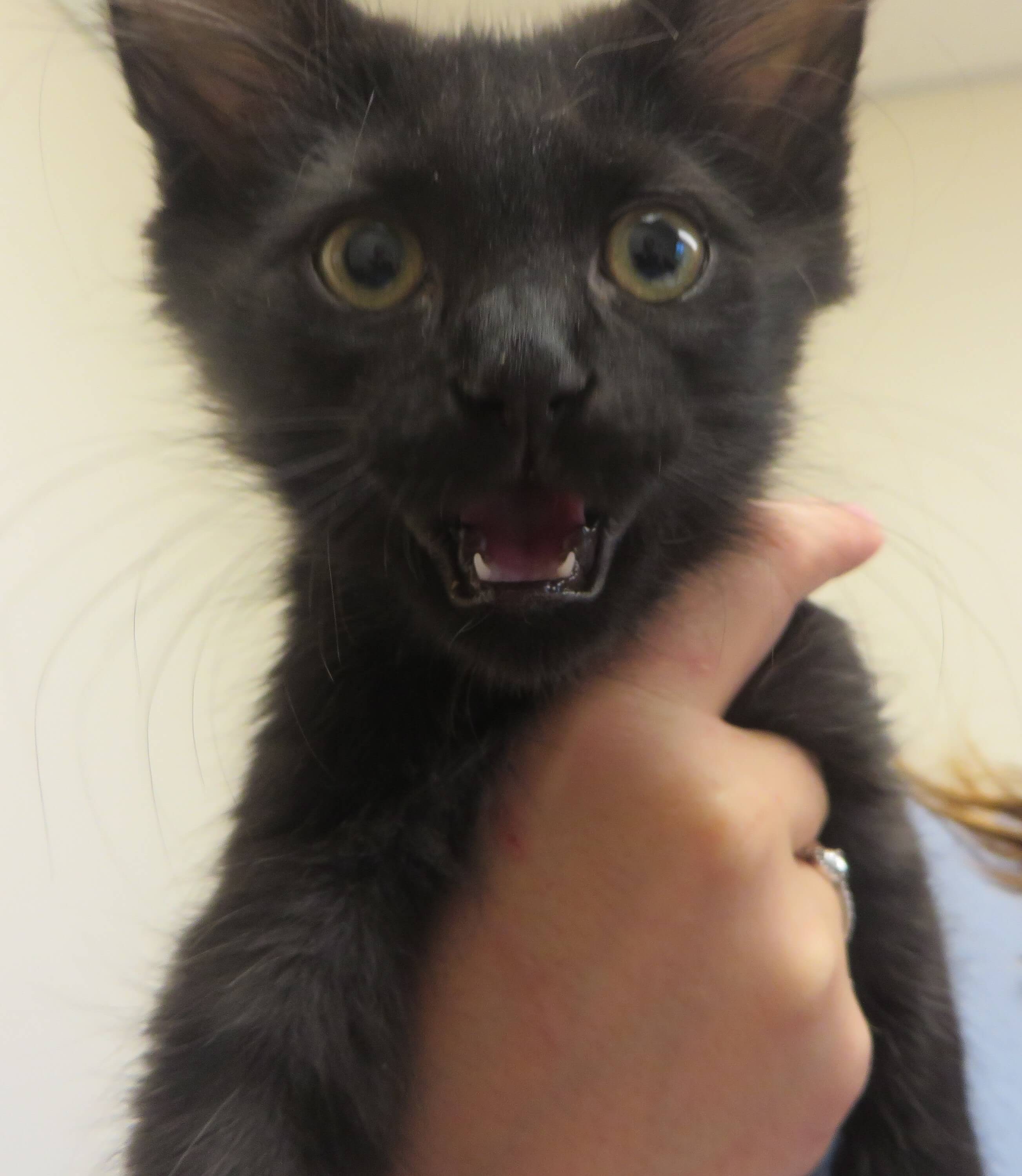 Monitor hard food and chew toys. Although sometimes useful for keeping teeth clean, certain foods, toys, and bones can lead to broken teeth, and while rawhide is a popular option, we don't recommend it because even the digestible kind can make your pet seriously ill if too much is swallowed. The best bet is to choose items that your pet softens while chewing, or that it can't get its jaws around.
---
A Lifelong Process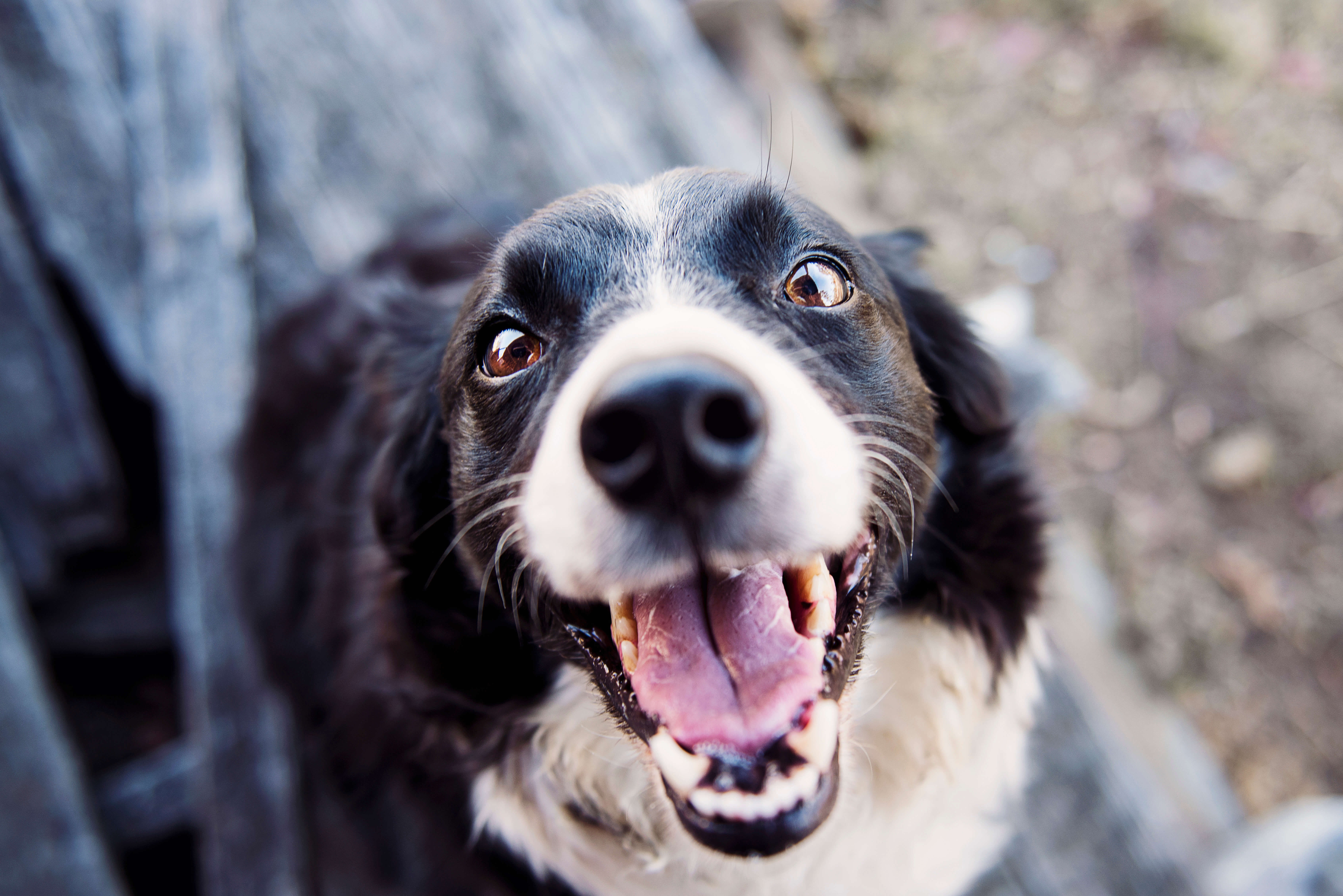 Even if your pet appears to have clean teeth, it should still see a veterinarian for occasional cleanings throughout its life cycle. Microscopic bacteria can always be building and encouraging plaque to cling.
In addition to dental treatment, Orchard Road Animal Hospital animal dentistry can assist you with oral-care advice, techniques, and diet recommendations for your pet.
Catching dental problems in the early stages can greatly help your pet in the long run. Contact our practice right away if your pet experiences any of the following:
Chronic bad breath
Your pet shies away when you try to touch their mouth area
Excessive drool
Dropping food when eating
Bleeding in your pet's mouth
Loss of appetite or weight loss
A yellowish-brown crust of tartar around the gum line
Missing, loose or broken teeth
Contact us at 630-451-8459 to learn more!