In 2008, Orchard Road Animal Hospital added Ultrasound Imaging to our list of provided services. The use of the ultrasound machine has helped our doctors properly diagnose hundreds of patients and has ensured they receive the best treatment.
What is ultrasound imaging?
Ultrasound uses high frequency sound waves to create a picture of the inside of the body. This technique is useful for imaging the heart, eye, and, abdominal organs. An abdominal ultrasound evaluates the kidneys, liver, spleen, gastrointestinal tract, pancreas, bladder, and lymph nodes. The doctors at Orchard Road Animal Hospital will recommend an ultrasound to look for abdominal masses, bladder stones, and kidney, liver or bladder infections among other reasons. The ultrasound is also a good way to obtain samples of abdominal fluid or to biopsy abdominal organs. An ultrasound can be safer than X-rays because there is no exposure to radiation, and the waves produced from the ultrasound probe are much safer. Unfortunately, ultrasound waves do not transmit through air or bone very well, which means we cannot ultrasound the lungs or the skeletal system with accuracy. Dr. Kennedy performs all of the ultrasounds at Orchard Road Animal Hospital. She received additional training during veterinary school and frequently does continuing education.
How long will the ultrasound take?
The ultrasound itself typically lasts an hour. Owners can drop their pet off and return at a later time in the day to discuss results. Most of the time, Dr. Kennedy can perform the ultrasound while the patient is awake and without sedation.
What happens during an ultrasound?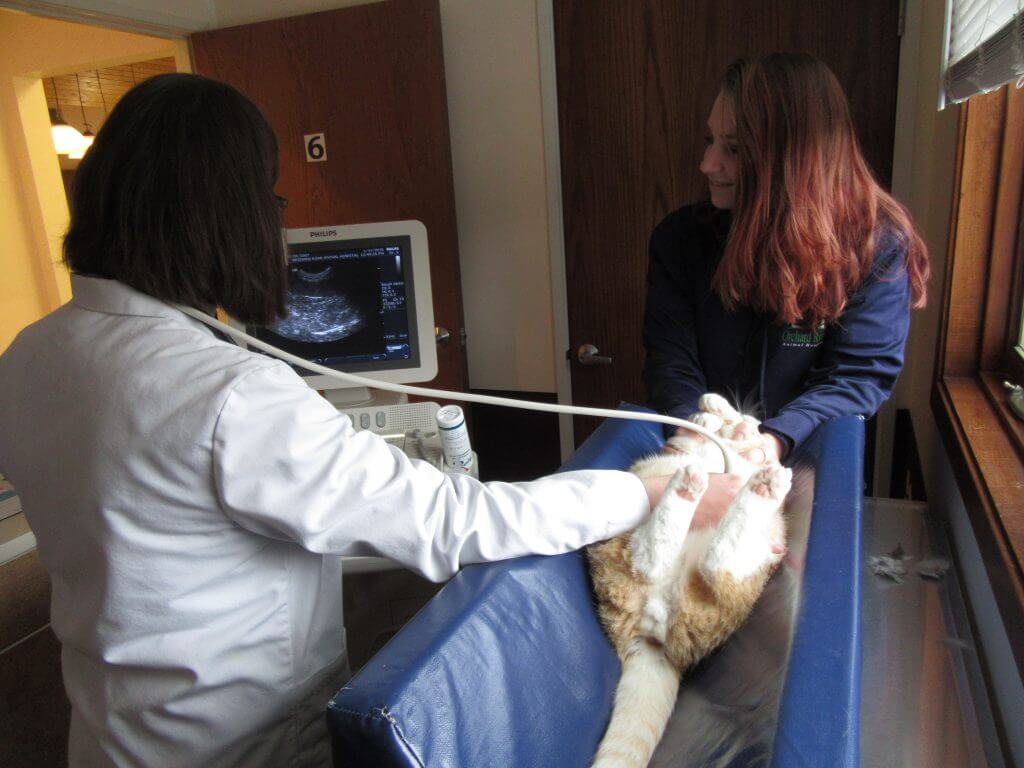 We place them on their back and nestled in a V-shaped pillow called a trough. We then shave the patient's belly and spray it with diluted alcohol to remove the oils from the skin. After this, we apply ultrasound gel to the targeted area and Dr. Kennedy starts to locate the organs and any abnormalities present. The ultrasound can detect abnormalities within the inside of the organs, whereas an X-ray may just give you a picture of the outside edge of the organ. Free fluid in the abdominal cavity as well as foreign bodies can be detected with the use of the ultrasound. Dr. Kennedy takes digital pictures of the organs for documentation and the results are discussed with the patient's primary veterinarian and the owners.
How expensive is the procedure?
Because of the training needed to operate the machine and because of the amount of information we can gather from the ultrasound, it is more expensive than an X-ray. The cost includes both Dr. Kennedy's and your pet's primary doctor's interpretation of the results. Please contact us at (630) 844-0100 for current pricing.